Day 173 – December 21. 2018 – Longest day in the Southern Ocean
Mark Slats reduces Jean-Luc Van Den Heede's lead by 87 miles in 4 days
Uku Randmaa rounds Cape Horn
Istvan Kopar surrounded by storms
Tapio Lehtinen tackles his barnacle problems
Dateline 16:00 UTC  21.12. 2018 – Les Sables d'Olonne, France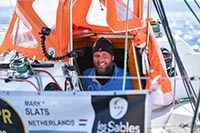 Mark Slats – still smiling but bored with all this upwind sailing!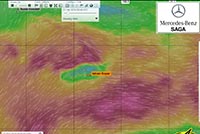 The storms that are predicted to surround Istvan Kopar tomorrow.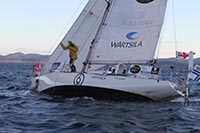 Tapio Lehtinen has plans to abseil around his yacht Asteria on the end of a spinnaker halyard to scrape off barnacles with a boathook to avoid the cold…and sharks!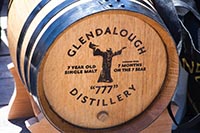 The barrel of Irish whiskey aboard Gregor McGuckin's abandoned yacht Hanley Energy Endurance has caught the eye of at least two salvage teams.
Today is the longest day of the year in the Southern Hemisphere so the sun has the largest declination to the south for all using a sextant to navigate. It also often marks a period of unsettled weather but all seems fine for the GGR fleet for now. The thoughts of skippers are towards Christmas mixed with their drive to the finish line back at Les Sables d'Olonne.